Protecting and maintaining your website is the most important parameter of managing your online presence. Keeping your code updated is the key to protect and enhance your website performance. One of the advantages of having a Drupal website is that it is an open-source platform. You have real-time community support and expertise when in need. When you effectively implement these tools and keep your code up to date, it will contribute to the stability of Drupal web development in the long run.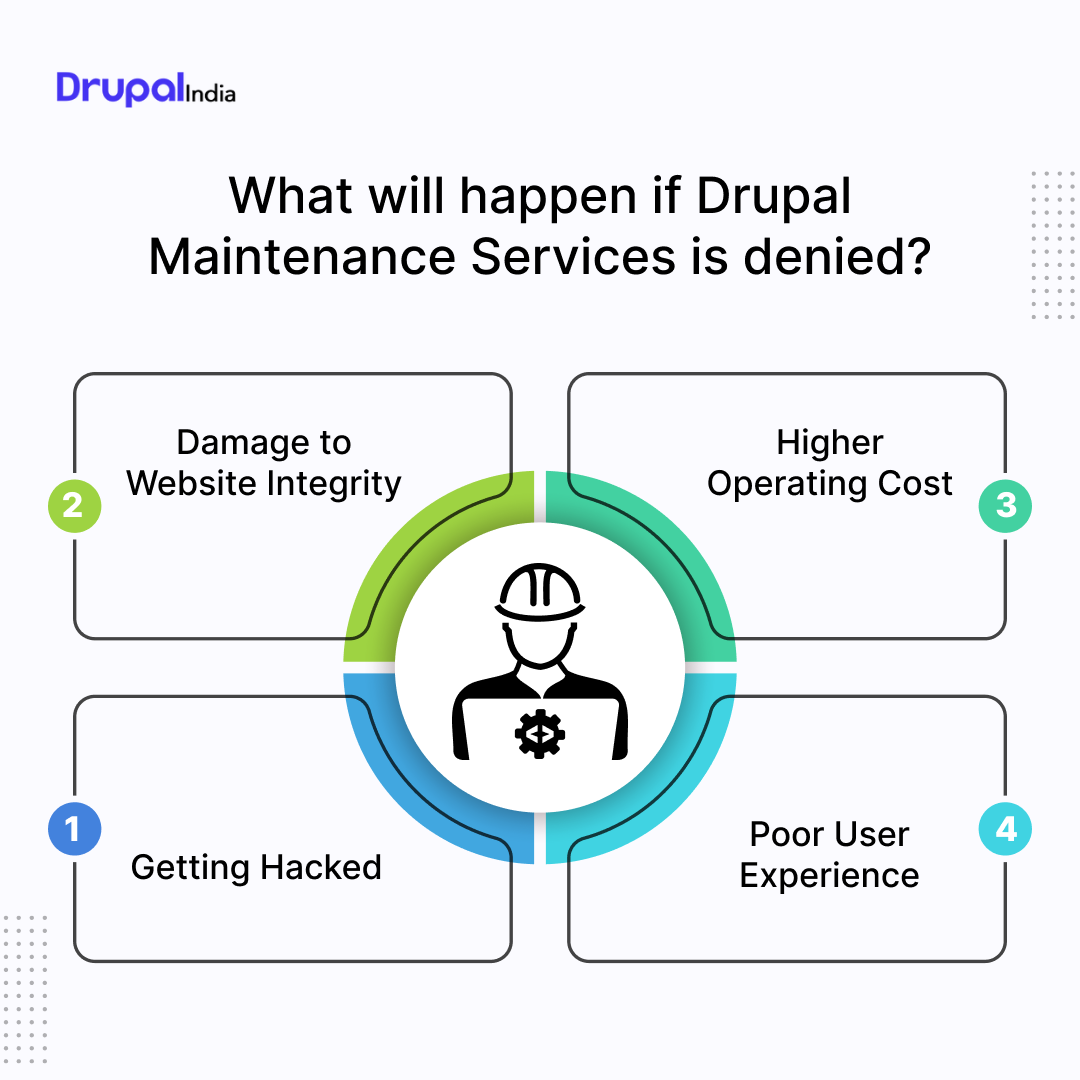 What will happen if Drupal Maintenance Services is denied?
1. Getting Hacked The security of the website will get compromised without proper maintenance services. Several people think that it can't happen to them because their site is not popular. Old site usually get hacked due to less secure coding and modules are not updated. They can 'view page source' to check the Drupal version. Hackers can easily breach websites having outdated code.
2. Damage to Website Integrity The longer you avoid the update process, the more risk you will face. The more often you update the less likely security & performance problems will appear. Skipping updates is a big mistake because eventually, one day you have to perform updates. And at that moment, the risk is much higher because all modules will be outdated. You can simplify the process by hiring Drupal developer from a reputed development agency. They will instruct you about the latest version in a streamlined manner.
3. Higher Operating Cost When you avoid updates for a long time period and suddenly plan to go back for an update, it results into a higher investment. The developer will ask for more time because the impact on the site is greater due to the additional updates. Additional time is also needed for QA because of the higher functionality. Implementing the update offers the latest and greatest functionality directly, overall improving your website.
4. Poor User Experience Timely updates integrate latest features and functionality to the website. Why wouldn't you need new features for your Drupal website? The faster you apply update, the sooner new functionality is integrated. That is, if you're using older version for Drupal website development, the overall experience is different in terms of slow performance than using the updated version.
What is included in Drupal Maintenance Services?
1. Database Optimization Drupal database requires timely optimization unless it will impact backups speed. Once the database is optimized, it remove unwanted clutter from the website's database system. Eliminate temporary media files as it can impact the website space. If the plugin is removed, then make sure to clear the database to optimize the speed.
2. Run Performance Tests Drupal is open-sourced and securely coded. Apart from focusing on the layout, look, and content focus on performance too. If your website speed is sluggish, it'll impact your website traffic as well. Performance has a crucial role in the user engagement of a website. This is an important part of Drupal support & maintenance services for the overall website performance. Marketing your website is important, but optimizing it is equally crucial. It is important to run tests for your website to check its working.
Wrapping Up
Every brand needs Drupal maintenance services to check whether website is properly running or not. You can take time out to schedule a deep check for your website. Doing maintenance tasks on regular basis keep your site optimized. This will ultimately improve the speed and overall website functioning. It's important to address errors with a maintenance task. The whole objective is to optimize your site so that it gets a higher rank and good traffic.